Dr. Julie Bergeron
Virginia Tech - 1992
Dr. Bergeron's parents knew they were in trouble when their little girl's fascination with horses just got stronger by the year. After carefully saving her babysitting money, her parents finally conceded to a request for a golden retriever. It was smaller than a horse but bigger than a poodle! She was fortunate to choose neighbor Dr. Mike Anthony as the veterinarian for her beloved pup Brandy. Determined to pursue a career in veterinary medicine, Dr. Bergeron began volunteering, working in the kennels and as an assistant while observing all facets of veterinary medicine from lifelong mentors and role models Drs. Anthony and Crawford.
Read More
Dr. Victoria Smith
Virginia Tech - 2004
When Dr. Smith first considered veterinary medicine, it was wildlife and zoo animals that attracted her. It was when working as an assistant in preparation for vet school that she discovered a preference for private practice. Her love of the bond between pets and their people made her pursue this career.
Dr. Smith received her BA from UVA, and her DVM from Virginia Tech, joining Stonehenge after graduation in 2004. In keeping with her initial wildlife and exotic interests, she sees small mammals and reptiles in addition to her canine and feline patients. In her downtime, she enjoys movies, books, hiking, and especially spending time with her husband, Bryan, and two sons, Noah and Samuel, as well as her own furry "kids", Leo and Rosie (the cats).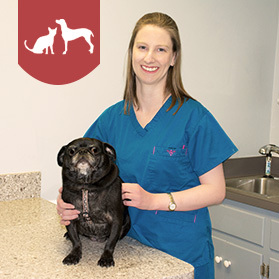 Dr. Katherine Howell
As a Midlothian native (go James River Rapids!), Katherine Howell is excited to be serving the Richmond area. Dr. Howell, a third generation Hokie, received her BS in Biological Sciences from Virginia Tech followed by her Doctor of Veterinary Medicine from the Virginia-Maryland Regional College of Veterinary Medicine in 2012. After graduation, she completed an additional year of study with an internship at Purdue University College of Veterinary Medicine in West Lafayette, IN gaining experience in emergency and critical care, internal medicine, surgery, and other specialties. Her professional interests include internal medicine and neurology.
Dr. Howell is proud to be a part of the wonderful team at Stonehenge Veterinary Hospital. In her spare time she enjoys trying new restaurants, reading, spending time with friends and family, and pampering her retired childhood pony Sunshine. She shares her home with one spoiled rescue pug named Olive.
AnnMarie McCormick
Vet Tech
AnnMarie started at Stonehenge Veterinary Hospital in the fall of 1999. Following years of hard work and dedication, she became our licensed veterinary technician in the spring of 2008. AnnMarie and her husband Tyler reside in Powhatan and have three beautiful children, Tyler ("little T"), Harper and Axl. Their furry children include 3 dogs and 2 cats. AnnMarie loves being a mother and, in her few moments of spare time, enjoys a good nap!
Angela Wright
Groomer
Angela was born and raised in Fayetteville, NC before moving to Virginia in 1995. She began her career as a dog bather and, within six months, excelled and was promoted to groomer. In 2012, Angela graduated with honors from Animal Behavior College with a certificate in Dog Obedience Training. Angela has been grooming for almost 18 years in the Richmond area! In her spare time she enjoys spending time with her Rottweiler/Shepherd mix "Hatchet", working on her jeep, off-roading, camping, and spending as much time outdoors as possible.